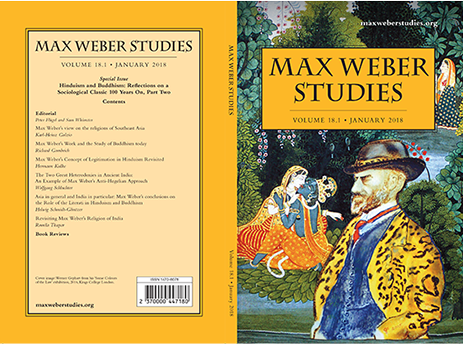 Max Weber Studies is published twice a year in January and July.
ISSN: 1470-8078
The journal is committed to the application and dissemination of the ideas of Max Weber. Max Weber Studies seeks an engagement with the fundamental issues in the social and historical sciences: the dilemmas of life-conduct and vocation in the contemporary world, the tracking of rationalization processes and their impact, disenchantment and the return of magic, the 'uniqueness of the West' and multiple modernities, the analysis of the stratification of power and its modalities, and the validity of an interpretative science of social reality. The journal asserts the continuing place of Weber in the conversation of both classical and contemporary social and cultural theory.
The journal is an indispensable source for the translation of new Weber texts and the publication of unpublished correspondence. It offers extensive reviews of every new volume published by the Max Weber Gesamtausgabe and analyses the emerging work-history of Weber's writings. It is very much interested in milieu analysis of European intellectual thought 1880-1920, in particular movements of social reform, the women's movement, cultural currents, family history, the universities, and politics both nationally and internationally. The journal also undertakes the reflexive analysis of the reception of Max Weber in different language communities.
The journal is interdisciplinary and welcomes articles in the fields of sociology, social theory, organizational theory, economic sociology, historical sociology, religious and cultural analysis, ethics, methodology, intellectual history, and civilizational analysis.
The journal is online with JSTOR and can be searched there. In 2023 the journal is migrating to Project MUSE. Submitted articles are anonymised and peer reviewed. The journal supports best practice in scholarship and its assessment and is a signatory of the Declaration on Research Assessment (DORA).